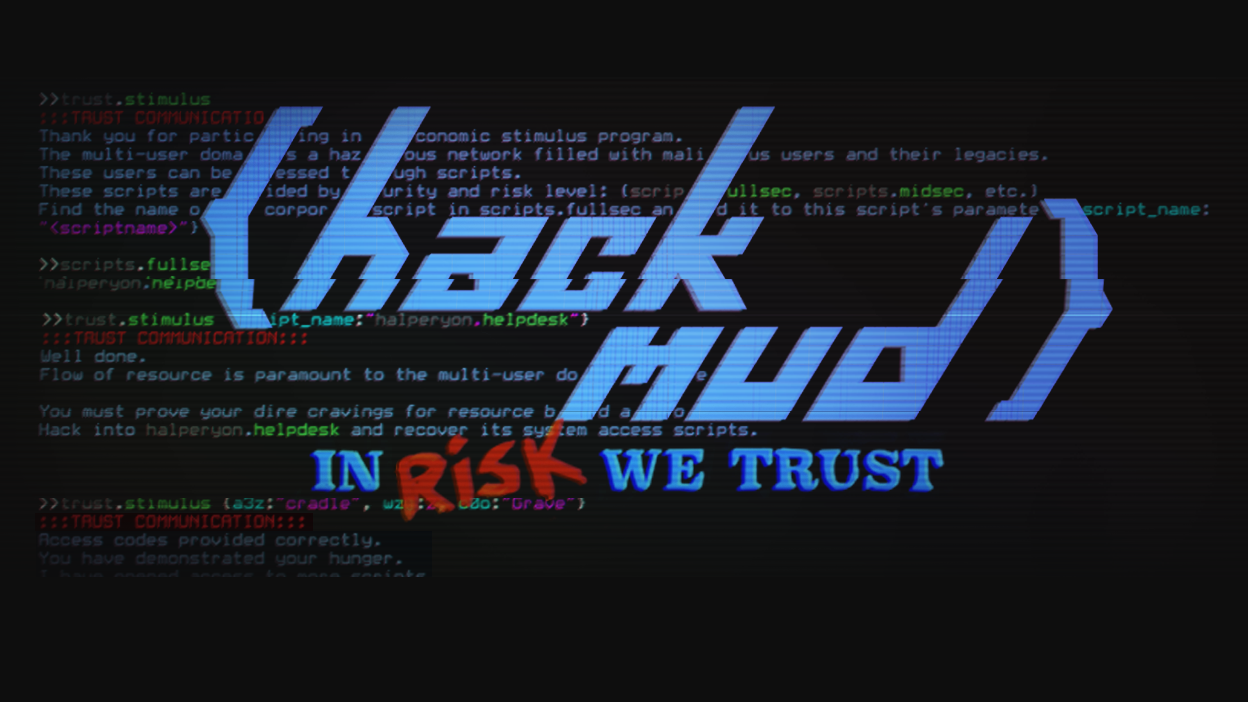 hackmud
!!NOTICE TO POTENTIAL BUYERS!!
h a c k m u d is a incredible tangle of features, caveats, bugs and ruins --and I am but one solo developer. This makes this game unbelievably complex to maintain. HOWEVER-- As long as there are servers running the game, there will be balance patches and fixes.
Read AS MUCH AS YOU CAN about the game and player's experiences before making your purchase decision.
Excited to have you in game making messes with us. :D
Happy Hacking!
Sean

h a c k m u d is a cyberpunk themed text-based hacking simulator for intel-compatible personal home computers. Get lost in a deep and complex world full of challenging puzzles as you engage in a rich narrative riddled with intrigue and deception.
Learn who you can trust as you make friends and enemies exploring the depths of abandoned future internet cyber-structure
Prove your worth to cyber-society by navigating the trials laid out for you by the Multi-User Domain's governing super-intelligence, 'The Trust'
'Patch into the hardline' to access other users' protected systems and steal their digital goods
Demonstrate hunger for power, flexibility of thought, and keen strategy to convince The Trust of your value and escape the virtual L.A.N.
Let the text-based interface transport you back to the early internet-era when computing was full of discovery
Create and destroy digital empires while exploring the constantly evolving user-created multiplayer world
Use real-world hacking skills (social engineering, cracking, research, scripting...) for power and influence in the M.U.D. at large
FEATURES
A deep, nuanced and engaging storyline full of discovery that will keep you guessing
Encourages deep exploration and testing the limits of the system through rich side-content
An intuitive retro-futuristic text-based computing interface that escalates to advanced with glitches, hidden commands, and arcane syntax
90s film style 'hacking mode,' for when you need to get some 'serious' hacking done
An original electronic soundtrack which will chill you out while exploring or amp you up when the pressure's on
Persistent and constantly-evolving game universe powered by an almost endless stream of user created tools, puzzles, traps and much more
A fluid and organic class system determined by the currently loaded upgrades on your system
A fully scriptable in-game world with a global player-based economy of code and in-game botting
Regular balance patches to keep the game fun and engaging for players of all styles and at all levels of experience
NOTICE: This game is online-only and requires a steam account to play.
(itch.io authentication is planned for the future)
Purchase
In order to download this game you must purchase it at or above the minimum price of $19.99 USD. Your purchase comes with a Steam key. You will get access to the following files:
h a c k m u d redemption instructions.txt
449 bytes